Twitter Tips, Tricks, And Tweets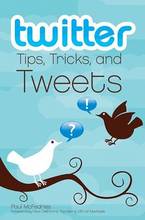 Stock information
: $42

.00

(NZD)

: 9780470529690
: John Wiley and Sons Ltd
: John Wiley & Sons Ltd
:
:
: May 2009
: 229mm X 153mm X 18mm
: United Kingdom
: 37.99
:
:
:
: books
:
:
: Paul McFedries
:
: Paperback
:
:
:
: 006.7
:
:
: 272
: Internet
: illustrations
:
:
:
9780470529690
Description
A full-color, portable guide to getting all the fun and productivity from Twitter Twitter is hot! It's used by everyone from teens keeping up with their friends to fundraising charities and organizations responding to natural disasters; even President Obama tweets.
Author description
Paul McFedries is a technical writer who has been authoring computer books since 1991. He has more than 60 books to his credit, which together have sold more than three million copies worldwide. His current titles include the Wiley books MySpace Visual Quick Tips, Internet Simplified, iPhone 3G Portable Genius, Teach Yourself VISUALLY Macs, and Teach Yourself VISUALLY Windows Vista. Paul is also the proprietor of Word Spy, a Web site devoted to new words and phrases (see www.wordspy.com). Paul lives in Toronto with his wonderful wife, Karen, and their silly dog, Gypsy. Please visit Paul's personal Web site at www.mcfedries.com, or follow him on Twitter using his Twitter accounts @paulmcf, @wordspy, and @citizencoin.
Table of contents
Acknowledgments. Foreword. Introduction. Chapter 1: How Do I Get Started with Twitter? Setting Up Your Very Own Twitter Account. Signing In to Your Twitter Account. Viewing Twitter's Current Status. Changing Your Twitter Password. Resetting Your Twitter Password. Deleting Your Twitter Account. Chapter 2: What Can I Do to Customize My Twitter Profile? Filling In Your Profile Details. Setting Your Twitter Picture. Applying a Theme to Your Profile. Selecting a Background Image. Using a solid color background. Selecting a custom background image. Background photo challenges. Using a background image to tell people more about yourself. Overcoming background problems with tiling images. Choosing Your Profile's Colors. Stopping Twitter from Sending New Follower Messages. Chapter 3: How Do I Send Twitter Updates? Sending an Update. Sending an update using the Twitter site. Tips for managing the 140-character limit. Typing non-standard characters in Twitter. Notes on tweet etiquette. Adding hashtags to create a tweet topic. Working with Your Updates. Deleting an update. Adding an update to your favorites. Making your updates private. Downloading All Your Updates. Working with Replies and Direct Messages Sent to You. Viewing replies sent to you. Viewing direct messages sent to you. Getting an e-mail when you receive a direct message. Chapter 4: How Do I Follow Other Twitter Users? Finding People. Finding people with Twitter accounts . Finding someone on another network. Inviting someone to join Twitter. Tracking FollowFriday recommendations. Following People. Following someone on Twitter. Following Twitter's suggested users. Following a person's updates via RSS. Following people who follow you. Following someone who is following you. Automatically following someone who follows you. Downloading your friends' tweets. Stopping following someone on Twitter. Replying, Retweeting, and Direct Messaging. Replying to an update. Retweeting an update. Sending a direct message to someone. Configuring direct message e-mails. Configuring your reply settings. Working with the People You Follow. Checking out a person's updates. Nudging a tweeter. Blocking a tweeter. Working with Twitter Bots. Receiving a reminder message. Querying the Internet Movie Database. Getting a map. Translating text into another language. Getting a weather forecast. Returning Amazon data. Keeping up with the bots. Chapter 5: Can I Use Twitter on My Mobile Phone? Understanding Twitter's Mobile Phone Feature. Considering text message fees. Non-SMS Twitter alternatives. Twitter's phone numbers. Activating Your Mobile Phone. Sending an Update from Your Mobile Phone. Sending an update from your mobile phone as text. Sending an update using Twitter's mobile Web site. Sending an update from your mobile phone as e-mail. Configuring Twitter to nudge you for updates. Sending a reply from your mobile phone. Sending a direct message from your mobile phone. Protecting your updates with a PIN number. Following Twitterers on Your Mobile Phone. Following a person from your mobile phone. Receiving a person's updates on your mobile phone. Nudging a person from your mobile phone. Marking an update as a favorite from your mobile phone. Retrieving a profile on your mobile phone. Stopping a person's updates on your mobile phone. Receiving only direct messages on your mobile phone. Stopping all updates on your mobile phone. Sending a Twitter invitation from your mobile phone. Getting your Twitter stats on your mobile phone. A Summary of Twitter's Text Commands. Tools for Managing Twitter from Your Mobile Phone. Mobile phone applications for Twitter. TwitterBerry. TinyTwitter. Twitterific. Twittelator Pro. More mobile phone applications. Mobile phone Web sites for Twitter. Dabr. Hahlo. PocketTweets. More mobile phone sites for Twitter. Chapter 6: How Do I Find Stuff in Twitter? Running a Basic Search. Searching with the new Twitter interface. Searching with the old Twitter interface. Realtime search results. Performing Advanced Searches. Performing an advanced word search. Searching for tweets that include a phrase. Searching for tweets that include multiple words. Searching for tweets that include one word or another. Searching for tweets that exclude a word. Running an advanced people search. Searching for tweets from a person. Searching for replies to a person. Searching for tweets that mention a person. Filtering tweets by hashtag. Searching for tweets by location. Finding tweets by date. Locating tweets that contain links. Adding Twitter Search to Your Web Browser. Adding Twitter Search to Internet Explorer. Adding Twitter Search to Firefox. Working with Search Results. Marking a search result as a favorite. Using a feed to monitor search results. Sending your search results as a tweet. Translating a search result to English. Twitter Search Engines and Tools. Tweet Scan. Twitterfall. TweetGrid. Monitter. TweetBeep. Twemes. AskTwitR. BackTweets. TweetVolume. Chapter 7: Where Can I Display My Twitter Feed? Adding Twitter Bling to Your Web Site. Adding a Twitter link to your Web site. Creating a text link. Creating a Twitter badge link. Displaying a badge that shows your total followers. Adding a "Tweet This" link to your Web site. Adding the Twitter Application to Your Facebook Profile. Inserting the Twitter Flash Widget on Your MySpace Page. Displaying Your Twitter Updates on Your Blogger Site. Including Your Tweets on Your TypePad Blog. Adding the Twitter widget automatically. Adding the Twitter widget by hand. Adding a Twitter Widget to Your Site. Adding Twitter's Flash widget to your site. Adding Twitter's HTML widget to your site. Chapter 8: How Can I Take Twitter to the Next Level? Twittering on the Desktop: Twitter Clients. Raising your Twitter game with TweetDeck. Getting started with TweetDeck. Configuring the TweetDeck window. Filtering tweets. Monitoring a search. Creating a TweetDeck group. Controlling Twitter with twhirl. Giving twhirl a whirl. Setting up your Twitter accounts. Working with tweets. Posting a tweet. Navigating twhirl. Twittering on the Web: Twitter Web Sites. iTweet. Tweetree. Tweetvisor. Working with Twitter Gadgets and Widgets. Adding a Twitter gadget to your Windows Sidebar or desktop. Adding a Twitter widget to your Mac dashboard. Adding a Twitter gadget to your iGoogle page. Displaying tweets in Firefox. Chapter 9: What Tools Can I Use to Extend Twitter? Shortening URLs. Sharing Photos, Videos, and Music. Sharing photos. Using TwitPic. Other photo sharing services. Sharing videos. Sharing music. Posting to Multiple Social Networks. Getting started with Ping.fm. Getting your Ping.fm application key. Configuring twhirl to use Ping.fm. Posting with Ping.fm. More Twitter Tools to Play With. Scheduling tweets. Following Twitter trends. Tracking total tweets. Tracking tweets by location. Getting your Twitter account ranking. Displaying your latest tweet on a photo. Tweeting events to your Google calendar. Using LinkedIn to track tweets about your company. Send your blog feed to Twitter. Glossary. Index.